New Visual Analysis BI Tools: Transforming Data into Meaningful Information
Makor has added exciting new tools to the ERP platform business intelligence (BI) reporting.  Our new BI visual analysis tool helps you effortlessly create visual representations of your complex data with simple drag and drop actions. Skip the tedious labor of sorting through spreadsheets manually or attempting to use complicated tools. Produce reports that allow you to spot any trends and outliers in your data quickly and easily.
The tool aids your analysis by serving up visuals guided by proven best practices. Need to spot a trend? The tool will suggest a scatter plot populated with your data. Interested in geographic distribution? The tool builds a map colored by your data without requiring any specialty files, plug-ins or geocoding. This tool keeps the focus on data and helps you stay focused on what the data means.
The ease of our visual analysis tool enables self-service analytics, avoiding dependence on your IT department. Now users can take full advantage of their visual discoveries by asking more questions, drilling down into the data and ultimately generating shareable dashboards.
Visual Analysis Details
Visual analysis capabilities include:
Visual representation of CRM information
Easy-to-use drag and drop interface
Ability to create insightful reports and dashboards
Advanced reporting capabilities with pre-built report templates
Transforms data into meaningful information by generating charts, graphs, reports and pivot tables
Shareable dashboards for collaboration within your organization
Mobile Capabilities for 24/7 access
At Makor ERP, we recognize your need to unlock the power  of your data without complex and time-consuming reporting. Our visual analysis tool is the solution to empower you.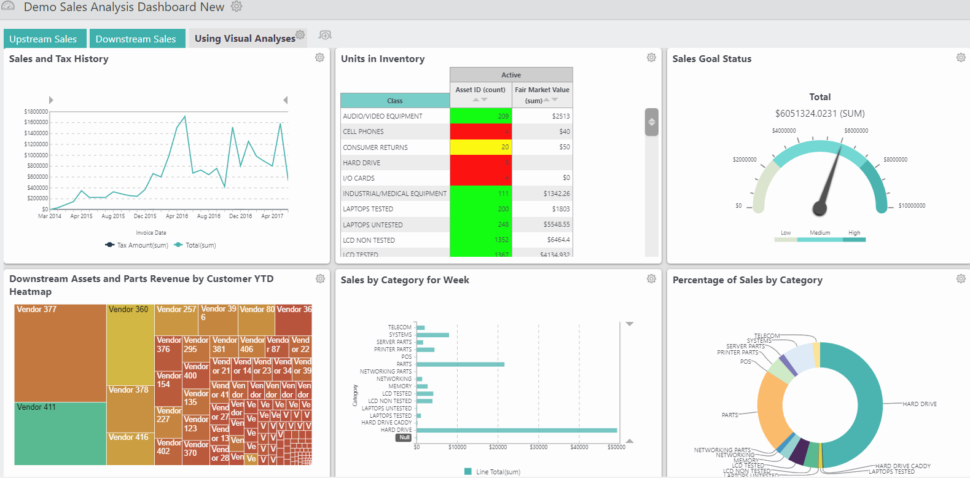 What Visual Analysis Means For You
Saves time and costs by replacing manual spreadsheet forecasting
Eliminates the need for IT assistance
Provides immediate analysis
Allows for collaboration with team members
Low skill requirements
Delivers accurate, insightful results
Mobile capabilities for anywhere, anytime access
The Visual Analysis feature comes standard with the Self-Service Reporting module of the Makor ERPTM ITAD Software.
Makor Solutions understands the challenges our customers face, and we are constantly improving our platform to better serve you. Connect with us to learn more about what we're doing to make your life easier.
Interested in Makor ERP? Start today and schedule a demo!